Please find below the job opportunities we have for Veterinary Surgeons, Registered Veterinary Nurses, Student Veterinary Nurses, Animal Nursing Assistants and Client Care Assistants. We currently have various openings across the teams and we are looking for dedicated, passionate individuals who are looking to advance their career. We pride ourselves in a strong learning culture, encouraging our Vets and Nurses to take on post-graduate certificate study; we currently have colleagues studying for Surgery, Cardiology and Internal Medicine; our nursing assistants often have the opportunity to progress onto a Student Veterinary Nursing course and the client care team are all working to become Accredited Veterinary Receptionists with the British Veterinary Receptionist Association.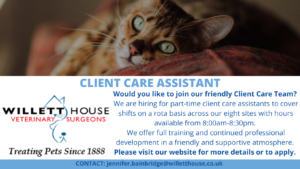 CLIENT CARE ASSISTANT
We would like to invite you to join our friendly Willett House Client Care Team.
We are currently recruiting for new members to join our Client Care Team. Our Client Care department currently consists of thirty dedicated individuals who are excited to welcome fresh faces to join the team.
We are looking for applicants with a flexible, positive attitude who can adapt to working in a busy environment. Our client care team work with initiative and take pride in their good communication and listening skills.
We are the first point of contact for our valued clients and we strive to deliver a friendly and personal experience to both the clients and their pets. Our client care team are responsible for every client's first impression of the practice and our structured training programme will provide you with the depth of knowledge and confidence to deliver a high standard of service to our clients.
The current team find that this role is both challenging and rewarding. The successful applicant will need to understand the importance of delivering good customer service, have a genuine love of animals (as this role involves animal handling), demonstrate good computer skills, have a willingness to participate in continued professional development and have a pleasant telephone manner.
Previous customer service experience is essential but further training will help you to develop your skills to meet our high standards of client care.
Applicants will need to hold a full UK driving licence and have their own transport as flexibility to cover hours at all branches will be required.
The roles available are 30 hours per week, Monday to Friday inclusive, with additional participation in a shared Saturday rota (currently 1:4 Saturdays).
What we can offer you:
– A friendly and supportive working environment
– Continued professional development financial allowance
– Utilisation of your skills, aptitudes and knowledge to progress your career
– Pension contributions
– 4 weeks holiday plus bank holidays
– Staff discount scheme (following probation period)
– Regular team socials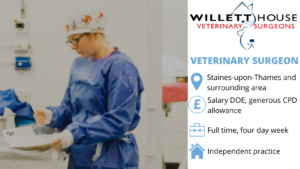 FULL TIME VETERINARY SURGEON
Willett House Veterinary Surgeons seeks a full-time veterinary surgeon. We are an eight-site independent practice based around Staines-upon-Thames, looking for an experienced vet to work a four-day week (with a fixed day off) split between the Staines site and one of our branch surgeries.
Salary and Benefits
We will offer up to £50,000 (dependent on experience), per annum
Minimum CPD allowance of £1,500, 5 days' CPD leave, with certificates actively encouraged (subject to funding agreement)
VDS/ RCVS/ BVA/ BSAVA membership fees paid
Staff Discount Scheme
5 weeks annual leave plus Bank Holidays
Skills and Experience
RCVS Registered Veterinary Surgeon
Confident working sole charge
At least two years' experience desirable
Role
The Staines surgery is a medical and surgical, Tier Two, Accredited RCVS Practice. The surgery is busy and exciting with plenty of opportunity to hone and develop your skills. The role will involve inpatient care, consultations, and surgical time, supported by our strong nursing and client care teams. We are well equipped, with complete in-house laboratory, laparoscopy, endoscopy (both flexible and rigid), digital x-ray (including dental), ultrasound, CT Scanner onsite and local MRI access too. Our branches are well equipped and supported by the main site.
Practice
The vet team is comprised of 13 vets with a range of experience including post-graduate certificates (Surgery, Dermatology) and Advanced Veterinary Practitioner status. Continued Professional Development including certificate study is actively encouraged and we have other colleagues studying for internal medicine, surgery, and cardiology certificates, we pride ourselves in our strong learning culture across the teams. With our equipment and experience within the team we are fortunate to be able to work cases up to a high level both medically and surgically, making minimal referrals.
We act as a host practice for Vets Now who are based at Staines overnight and at weekends/bank holidays. The current rota involves 1:9 weekends and a shared Saturday rota.
Contact
For more information, or to apply, please contact Dr Alice Webb-Wilson via email, alice.webbwilson@willetthouse.co.uk